Sakura Elevator's innovative security technology patent : Fall Protection safety equipment
2017/09/13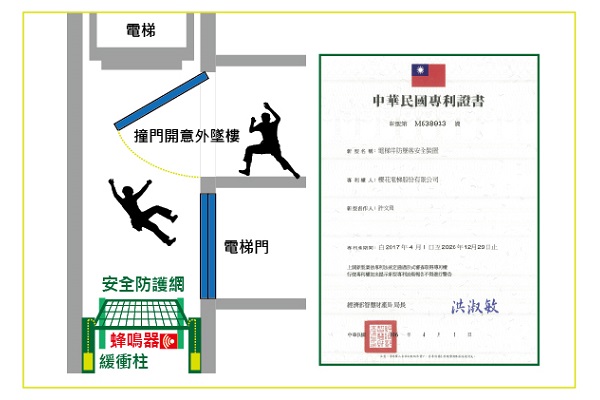 Elevator has already become an important part of people's lives.
Everyone shares the convenient it brings, but they thought little of a safe, comfortable, and the lowest accident rates elevator,
which needs all sorts of professional technique talents.
Sakura Elevator has researched many types of security devices to become safe shields of modern people.
People stuck hand by the elevator door is often in the news, and most serious of all is elevator door broken,
cause a lots of tragedy such as passengers fell down from elevator shaft.
Due to the elevator shaft needs space to set and run the machine, no matter which floors passengers fall,
most of them are serious injury, in a coma, or even cause of death.
Owing to the elevator accidents have usually taken place, Sakura Elevator decided to develop
"Fall Protection safety equipment", which has a safety net to catch the fallen passengers and sound the alarm,
for safety prevention and sending help signals effectively.
Sakura Elevator is acknowledged as excellent quality manufacturer, and their technology also wins construction
companies favor in the market. Moreover, they have become one of the most safety elevator companies in the market.